Bayern Munich football/soccer T-shirts & jerseys for sale which you can buy now online right now!
Featured Product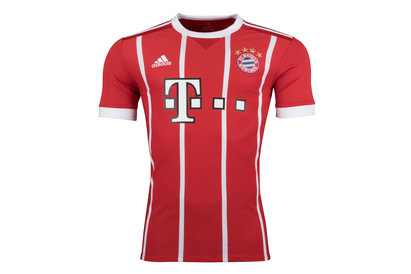 Bayern Munich 17/18 Home S/S Replica Football Shirt
£60.00 Buy Now
Brand: Adidas
More details from Lovell Soccer
Inspired by the past but every bit a shirt of today; introducing the adidas Bayern Munich 17/18 Home Short Sleeve Replica Football Shirt in True Red and White.This football shirt of German Bundesliga side, Bayern Munich has been inspired from the famous shirt of the European Cup winning shirt from 1974. This lightweight shirt comes made from 100% recycled polyester and features a ribbed crewneck and cuffs. adidas have also included their Climalite technology that keeps you cool wicks moisture away from the wearer's skin allowing it to be evaporated quickly. With the famous Bayern crest embroidered on the chest along with the adidas logo, the main sponsors, Telekom logo has been printed to avoid irritation. Whether you're in the stands at the Allianz Arena or training for your own big games, show your support for Lewandowski and the rest of the Bayern squad in this adidas Bayern Munich 17/18 Home S/S Replica Football Shirt.""Sizes: 3XL, L, M, S, XL, XXL
View MoreeBay Auctions & Sales
We've searched eBay so you don't have to!
Popular teams with plenty of shirts to choose from